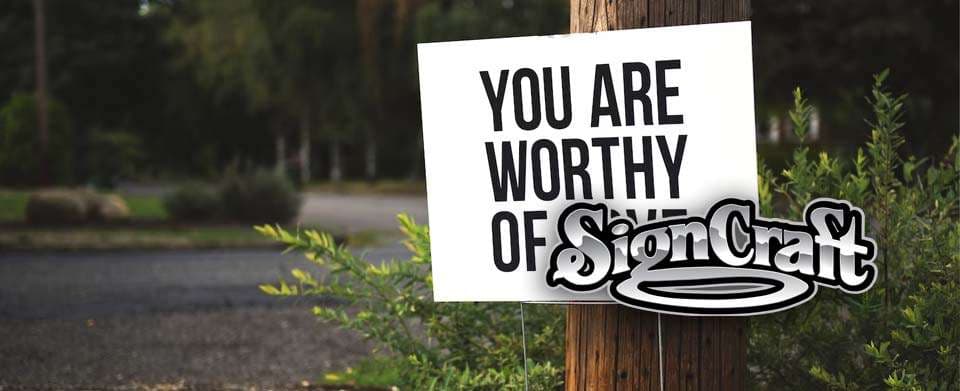 Are you in need of a way to promote a Kelowna event, business, or political campaign? Our suggestion for you is to begin with a yard sign! A yard sign is a cost-effective way to publicize an upcoming event! No matter what you're in the business of, yard signs are an incredibly popular way to generate some buzz. One of the most common uses of yard signs is to promote political candidates during an election. At Signcraft, we can provide you with an affordable and well-made yard sign to ensure all of your signage needs are met. After years in the industry, our sign crafting process has been fine-tuned. If you're interested in getting a yard sign made by our company, check out some more information about the uses of Kelowna signs for your yard below!
Kelowna Signs for Businesses
Yard signs can be used for all kinds of businesses. This sort of versatility makes yard signs an effective marketing tool—no matter what industry you're in. A good yard sign will help your business attract customers, create visibility and establish your brand in your local community. 
Businesses that can benefit from yard signs:
Yard signs are highly effective for general contractors. Whenever a company is building or landscaping a home/workplace, yard signs let the public know who is getting the job done. This a great way to get the business of surrounding homes/workplaces. Depending on what you include on your yard sign, you can also improve traction to your online presence. 
Those who provide essential services to homeowners can also benefit from yard signs. Putting up a sign near a home that your business is servicing is a great way to enhance your local brand awareness! Some examples of home services that can benefit from yard signs include:
Electricians

Cleaning companies

Siding/roofing companies

Lawn care professionals

Etc. 
Another common industry that uses yard signs are those who own non-profits. Yard signs are a great choice for non-profits since they are cost friendly and effective at drawing attention. If your non-profit is looking to promote a fundraiser or an event, consider using yard signs to help generate some buzz! 
Businesses Looking to Hire New Employees
Any business who is looking to hire new employees should try yard signs. Yard signs are an uncomplicated way to let your local area know that your business is in the market for new employees. Placing these signs at universities or outside of your business can help attract new applicants.
Yard Signs for Real Estate
While yard signs are used in other industries, they are very popular for those in real estate. Real estate agents use yard signs because of their portability and effectiveness. Brokerages and agents can use these type of signs to promote land, open houses, new listings, and real estate-related events. Most often, yard signs are designed to provide specific information about a property/event. For example, if there is an upcoming open house a yard sign could be designed that includes dates, the address, times and who the broker/agent is. Yard signs can also be used for homeowners who are going the FSBO route. 
Campaign Yard Signs
Perhaps the most common use of yard signs is for political campaigning. Anyone who has been in a city during an election knows that yard signs are one of the most popular kinds of signs used by candidates. This is because they can be taken down and put up with ease. Furthermore, yard signs are great for generating visibility and can be used to persuade voters who may still be on the fence. If you are looking to promote yourself in a campaign, try yard signs! 
Contact us About Kelowna Signs!
Yard signs are a seriously underrated tactic for generating new business and enhancing your visibility. From construction companies to real estate brokers, there are so many businesses that can benefit from yard signs. At SignCraft we have years of experience with all things sign-related!
For more information about how Kelowna signs for your yard can improve the visibility of your company, contact a professional at SignCraft. We would be happy to help you design a sign that makes your business stand out from the local competition. Feel free to reach out to us for more info about all things signs. Be sure to check out our social media and stay tuned to our blog for the latest updates and more. We look forward to working with you in the near future!