2018 is finally here and trends say it's not about being coy to get your business noticed when it comes to commercial signage.
2017 saw a shift in the world's perspective and as a result of this cultural shift we are already beginning to see some of the effects on how businesses are marketing themselves with signage in 2018. What once was minimal and subtle has now changed to calculated brand statements and thoughtfully curated mega pieces of marketing that really make an impact.
Let's explore some of the up and coming design trends for signage and print marketing for 2018 and see what your take is on this bigger is better round up. 2018 will see more Kelowna businesses implement the use of large scale interior printing, more technical signage in the way of large scale wraps on windows, walls and large lobby surfaces, and the introduction of textured products in local business spaces.
Big signs that big signs are here to stay in Kelowna for 2018
If 2017 can be explained in a word as uncertain, then looking ahead to 2018 we can only conjure up one word to describe 2018 and that word is unapologetic.
Marketing often takes its lead from politics, culture and the pulse on the street and that is definitely where we see these bold new sign marketing trends emerging from. Large scale printing will be everywhere you look and you can expect to see a number of big attention grabbing pieces pop up in the Kelowna area come spring 2018. Large scale signage will be found everywhere and on every material surface imaginable from brick building facades to massive, full scale, coming soon window wraps. Attention grabbing graphics are going to take precedence over minimalistic design trends of the past and will be used to increase awareness ahead of opening day at a street level. Companies will use these larger scale signage opportunities to draw attention not only to new businesses, but also to refresh the images of established companies.
There is an increase in new construction projects in the multi family space taking place throughout Kelowna in 2018 and we are gearing up to see the use of building wraps to hide unsightly construction in some these high traffic areas. Building wraps are very effective to draw attention away from an otherwise plain or dilapidated building facade and turn it into a work of art with advertising that gets noticed. Building wraps are where you can have some serious fun in advertising and promote your brand on a massive scale. If you're a building owner with a less than desirable building facade talk to us about how you can up your exterior street appeal with some exterior signage wraps.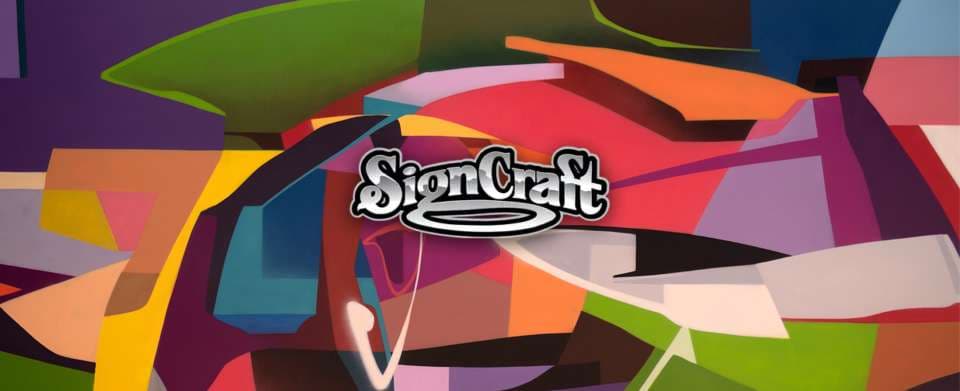 If you're going to plan for an overhaul to your exterior in 2018 then it's always a good time to check your existing signage at the same time. Make sure that your signage is in good working order. You will want to ensure that if you have a lit sign that all bulbs are still illuminating and that you keep your sign free from tears, holes, or slices and clean from weather build-up and street pollution. We have a great sign maintenance program for those customers who are looking at how to keep their signage in perfect working condition year round.
You'll also want to ensure that all of your signage inside and out is still on brand. This means changing out signs and other printed material that doesn't include your latest logo, color scheme and/or messaging. These are all very small details that add up to a big impact for your potential customers.
Large scale printing isn't just for the exterior.
We will see this larger than life trend carry through to the interiors of many local Kelowna businesses. Wineries, fast food restaurants, coffee shops, retail spaces and even office spaces will use large scale printing formats to reinforce their business branding once customers walk through the door. You can expect to see lobby walls, and waiting rooms with larger than life signage and full size wall wraps that display strategically designed corporate branding splashed from floor to ceiling for a dramatic impact. Twists will include design elements such as, Instagrammable frames complete with built in hashtags, taglines and contact details. Known as "selfie walls" we expect to see more of these around town, especially where the younger digital generations congregate.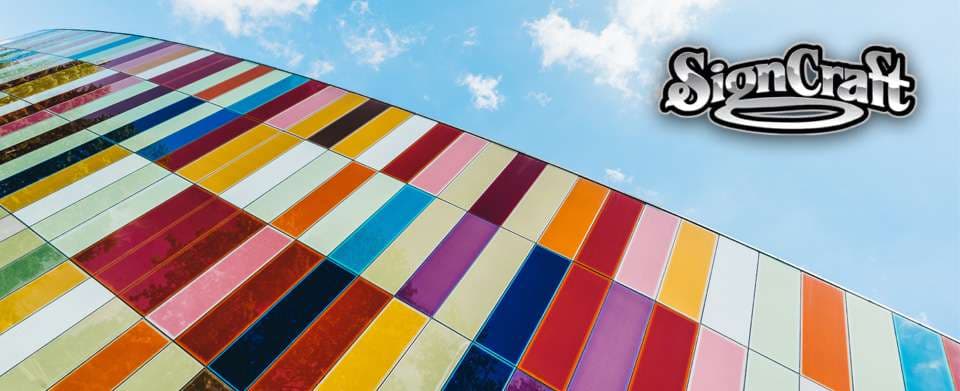 Large scale interior printing is also seeing a resurgence for businesses and organizations looking to convey their local history to patrons. Commissioning a historical hallway with an easy to follow corporate timeline at a glance is a great way to show how long your business has been around and what milestones you've achieved since you've been in business. History halls are also a great way for customers to connect to your business while they wait for your last meeting to finish up. This can be done in a number of clever ways and depending on your tenure it can really fill some voids in what would otherwise be dead wall space. Our advice is ditch the plain paint and go with something informative that will leave a lasting impression on people who come through your door.
Many of our sign customers in Kelowna are looking for fresh and out of the box solutions and nothing ups the Wow! factor more than full scale wall graphics. Inspire your customers with history that tells a story and wall wraps that pack a viral marketing punch in 2018.
If you're interested in having us take a look at your space and make some suggestions on how you can incorporate some of these 2018 sign trends into your Kelowna business then reach out to us today and let's chat!
We're looking forward to creating a bolder, bigger look for Kelowna businesses in 2018.
Content Marketing by
 Atomic55