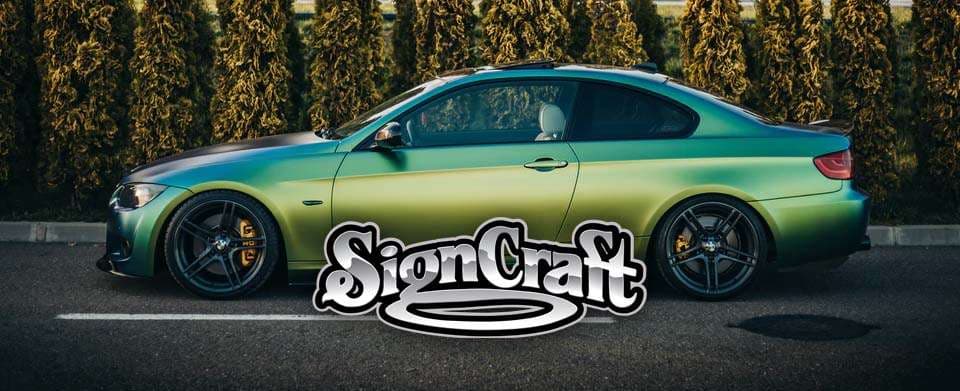 Getting a vehicle wrap in Kelowna can serve many benefits to the everyday automotive owner. Those who own a business can use their wrap to advertise their company. Moreover, people can also use a vehicle wrap to switch up the look of their car. There's a lot involved with getting a vehicle wrap Kelowna. At Signcraft we want to ensure you know what you're getting into before you make the vinyl decision ;)
What is a vehicle wrap in Kelowna?
A vehicle wrap Kelowna is the process of partially or totally covering your vehicle in a vinyl wrap. This is done to cover the original paint with a new colour, finish, graphic, or all three! If maintained properly, a vinyl wrap will not damage the original paint. Unlike a new paint job, the creative possibilities for wrapping a car are endless. At Signcraft we offer our wrapping services for almost all vehicle types. ATV's, trailers, vans, and more have all been wrapped at our shop.
What's the benefit of wrapping my car?
If you're a small business owner looking to generate more revenue, a vehicle wrap is a perfect way to do so. Advertising your business through a great wrap job will draw people to find out more about your company. Every kilometer you put on your vehicle will equate to a large number of people who have seen your branding. It's impossible to ignore a brightly wrapped vehicle driving beside you. Employ this strategy in your marketing plan for amazing results.
A vehicle wrap is also great for those looking to switch up the look of their car. If your favourite colour wasn't available as a stock paint job, wrap it to suit your style. This is also a great way to protect the paint below – if the wrap is properly taken care of. Enjoy your favourite colour on your daily driver with a vehicle wrap Kelowna!
What to know about a vehicle wrap Kelowna?
A vehicle wrap Kelowna is not for everyone. The car you are wrapping must have a paint job in decent condition. If there are large dents, scrapes, or excessive scratches, the wrap will not stick to the vehicle properly. This can cause it to come off prematurely and wreck the paint job beneath. Additionally, chipped paint can make it harder for decals to adhere to your vehicle.
Having a vehicle wrap done is much more cost-effective than having a new paint job. In addition, you also have more creative freedom. A wrap allows vehicle owners to temporarily reap the benefits of having a custom wrap, while still being able to return to the stock paint job at any time. The cost of having your car wrapped varies from size, design, and finish. Paint jobs of the same quality typically cost much more and limit your possibilities for design. You will also no longer be able to return to the original paint after getting a new paint job.
Furthermore, vinyl wraps can last up to 5 years if maintained properly. A poorly maintained car wrap will weather and wear much faster than those that are well taken care of. This means ensuring the car is covered and doesn't spend a lifetime baking in the sun will prevent it from peeling off ahead of its lifespan. Maintaining a car wrap means keeping it covered when possible, avoiding automatic car washes, and making sure it stays clean.
Get a vehicle wrap in Kelowna today!
A vehicle wrap in Kelowna is the perfect way to get your dream paint job or advertise your business in an effective way. Nothing shows off your brand more than a sleek auto wrap! Contact us at Signcraft today to learn more about getting a vehicle wrap in Kelowna today. If you have any questions or concerns about getting a vehicle wrap please feel free to reach out to us at any time. We'd be happy to help you determine if wrapping your vehicle is the right decision. For more information visit our social media page here or check out our vehicle graphics tab on our website. We look forward to seeing your vehicle in our shop!