Are you looking for a sign company in Kelowna who can handle large format printing? If you have a large scale marketing project coming up Signcraft is the local sign shop that can handle all your large format printing needs with our flatbed printer.
QUICK TURNAROUND TIME
Flatbed printers allow sign shops like ours here in Kelowna to drastically increase our production capabilities. We are one of a few Okanagan print shops to use a flatbed printer. Our customers love the turnaround time that we offer for both flexible and rigid print applications.
We are able to produce press quality signage as well as display and packaging up to 2.5 inches thick all while using this amazing digital printing hardware.
Using the same printing technology we can turn around large scale window graphics that can be used to draw your customers into your retail shop. These can be applied to a variety of surfaces such as wood, aluminum, acrylic, mirror and glass.

NOT YOUR AVERAGE PRINTER
Using our award winning HP Scitex FB550 industrial flatbed printer is a great way to accomplish large scale projects with short turnaround times. We can load in virtually any media and print it in high resolution quality up to 1200×600 dpi. This ensures that your finished product is crisp, clear and catchy.
SIGNAGE DONE RIGHT
In fact one of the most popular print jobs we use our HP flatbed printer for is rigid printed real estate signage. In a real estate market as hot as Kelowna, we are constantly fielding calls from busy real estate agents and their designers in need of signs. We can print everything for your real estate signage needs. That includes everything from residential yard signs to colossal highway commercial real estate signage. Of course we also supply sign toppers, and open house wayfinding. In fact we've probably printed it all. Nothing makes it easier and faster than our flatbed printer when it comes to real estate signage.
Our flatbed printer allows you take ordinary surfaces and transform them into masterpieces. We can rigid print large, custom art pieces for restaurants and clubs. This type of signage is perfect to fill the void on those long expanses of walls. You can even use large format printing on ceilings that beg for something large and fresh to fit the space. The only limitation is your imagination. You can finally bypass the expensive shipping and packaging costs found online! Create branded pieces, seasonal pieces or something funky. Large format printing in Kelowna helps to tell the story of your space and brand. At Signcraft we do it all for a fraction of original commissioned artwork cost.
WINDOW PROMOS HAVE NEVER LOOKED BETTER
Bring your storefront windows alive by overlaying a translucent design over a backlit display for some serious wow factor. We can print multiple images on multiple mediums in one run, which further saves you money because we save on production time, so you can run a single shop window campaign without breaking the bank. We are able to produce true full bleeds from edge to edge to further enhance the quality of your finished collateral.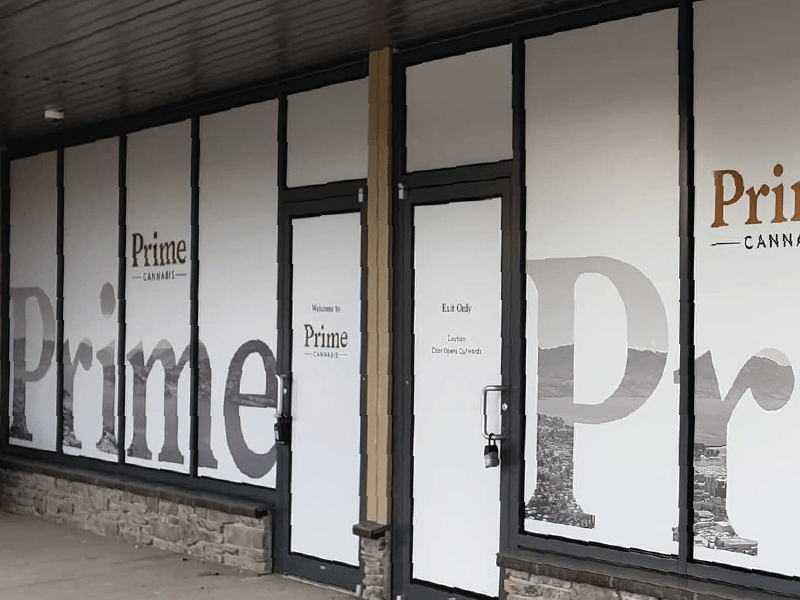 Whether you are looking to run a seasonal promotion with dual sided, flexible hanging signage in every aisle of your shop or you simply want to do something extra at your P.O.S we can accomplish small or large scale runs that are cost effective and durable. Printing custom looking signage isn't reserved for the big box titans when you consider digital flatbed printing services.
STAND UP DISPLAYS FOR RETAIL AND SERVICE BASED BUSINESSES
Another popular option for clients using our printing services are stand up displays. Free standing display units are popular for retail and service based businesses who want marketing that stands out – quite literally. They are also used for marketing, events, launches and even in corporate environments and while they are associated with a high price tag you can now save on costly traditional printing by using Signcraft's digital flatbed printer. It will ensure that your stand up display graphics attract the right business and that you pay the right price.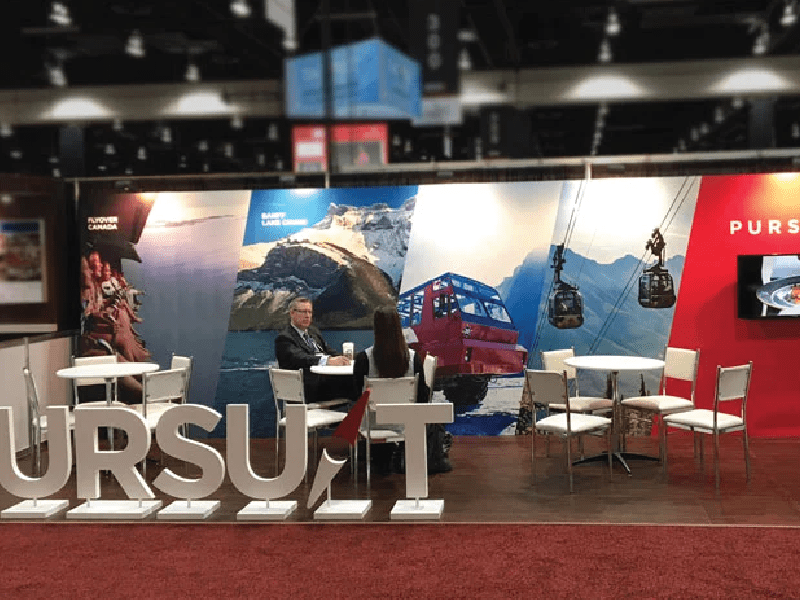 If you are a graphic designer, marketing agency or savvy business owner and you have a window display, POS marketing, outdoor signage, indoor signage, standing display or even custom large scale hotel art you need to call Signcraft to get a quote on our flatbed printing services. You will love the way your job turns out, from the vibrant colors that mimic a press quality job to the quality of the material you present to your clients.
Contact us and let us know if you want to arrange to see some of our Signcraft flatbed printer samples before you start your next large format print job in Kelowna.